3 Bedroom House Sleeps 8. Les Moulins.
Our three bedroom gite / holiday cottage with heated swimming pool, Les Moulins, sleeps up to eight people in comfort. There is a king-sized master bedroom, a double bedroom and a large room with two bunk beds and two single beds. Les Moulins is ideal for families, for several couples or groups of friends. The open plan living, dining room with kitchen is beautifully appointed and comfortable and has everything you need whether you want to cook, to sit and read or to watch the TV and listen to some music. Les Moulins was originally a farmhouse, built around 1880. The name Les Moulins means The Mills. The house is approximately 92 sqm in size. It has a stylish country charm that you will notice the minute you step through the door.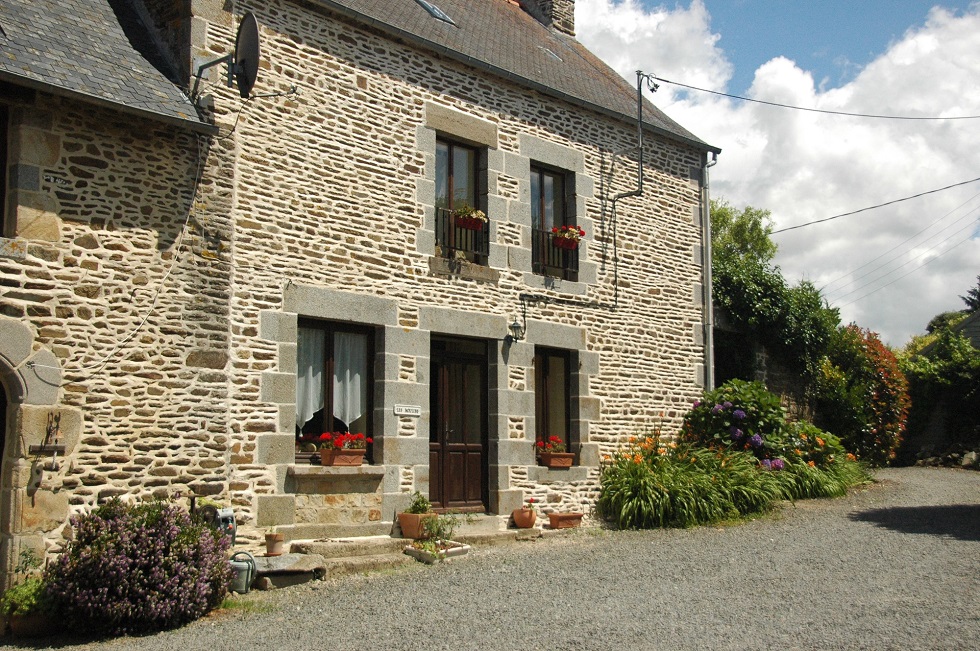 Living / Dining Room
The living/dining area is open plan with a large utility room out of sight behind the kitchen. The living room has a large Breton fireplace with a wood burning fire which is set in the original stone wall. There are beautiful character-filled exposed beams in the living room and on each of the three floors.The living room has a TV with a satellite receiver and DVD player. The satellite system receives all the main BBC and ITV channels and all the UK Freeview satellite channels. The living room also has a stereo system with CD player and tuner. You can relax in comfort on one of the generously proportioned and comfortable sofas, and watch TV or a DVD or you can listen to music while you relax. The living room has a decent range of books including novels for holiday reading, some guides to the region and some books on France generally. There's something to read there for most tastes.
Kitchen / Utility Room
The kitchen is deceptively spacious and is very well appointed. It has a gas hob and oven, a kettle, a coffee percolator and all the pots, pans, roasting dishes, plates, cups, bowls, cutlery and implements you will need to cook, serve and eat nearly any dish. It really is a well equipped kitchen.
The utility room just behind the kitchen area has a large fridge freezer, a dishwasher, washing machine and various things like vacuum cleaner, clothes airer, etc.. Les Moulins is very well equipped and has everything you need to cook nearly any any meal or dish.
Bedrooms / Bathrooms
There are two bedrooms and a bathroom on the first floor. The double bedroom is a bright, comfortable room which looks looks out on to the courtyard. The decor is traditional and the brass and steel bedstead fits nicely with the feel of the room and the house. This room has a large walk-in wardrobe.
The second bedroom on this floor has two single beds and a set of two bunk beds and a large built-in wardrobe. This is a large room and even with four beds and a cot (optional) it isn't crowded. Again, this bedroom looks out over the courtyard. The family bathroom is on this floor and includes a bath with integrated shower.
The second floor has a very large double room with a king-size bed, a walk-in wardrobe and an en-suite bathroom with an electric shower .
Lovely and comfortable accommodation. Weather was great for the time of the year – but we loved a cosy fire in the evenings nonetheless!! Lots of historic places – loved Fougeres. If visiting the landing beaches in Normandy as we did, the Bayeux Tapestry is also well worth a visit. The kids loved the Aquarium at St Malo, Alligator Bay and also a visit to the local forest. All in all, an enjoyable holiday and we will recommend the accommodation should any friends or family wish to visit Brittany
We have all thoroughly enjoyed our stay here even though the weather wasn't as sunny as we hoped it would be! We particularly loved the use of the pool and the bikes. Also, we thought that it is very well equipped and a comfortable home to stay in.
Thank you so much for a very relaxing holiday. You made us feel very welcome and all the 'extras' were much appreciated in the house – so much more than is usually provided. Mont St Michel in the evening worked very well. We loved cycling along the disused railway line and cycling to the tennis court. The local forest with the lake was a huge hit and we thoroughly enjoyed Dinan, Dinard and Fougeres.
It was lovely to get the family together to meet Annabelle – the latest arrival!!. We had a wonderful visit and so enjoyed the whole experience. A little piece of heaven!!!
What a wonderful break! We had a fantastic time in Les Moulins. The place itself is beautiful and Malcolm & Alison have added all the little thoughtful touches that really make it special. The house was so well equipped and every single thing you need to enjoy your holiday is provided. We brought so many things with us that have stayed in the suitcases because they were already provided. A very special place. Look forward to returning. Thanks again.
We have had a fantastic time here at Les Moulins. Everything we could ask for and more. The boys had a fantastic time in the pool and Games room. We loved our day at the beach at Dinard but the days at the Foret Villecartier were brilliant. – the high wires, boating lake and the hot chocolate went down a treat. Alison and Malcolm could not have been more helpful – we will have no problem spreading the news about how much we have enjoyed it here.
Les Moulins is a beautiful place to stay with everything you would ever need. The Welcome pack is a lovely touch and along with Alison & Malcolm's kind hospitality, made us feel very welcome. There is a lot to see within easy reach and we found it very easy to fill our 2 weeks. Wish we could have stayed longer!!
The house is great and is a true Home from Home!
What more is there to say – Absolutely fantastic!! Thank you so much.
Thank you so much for a wonderful time. Unusually, we were here over Christmas and found Les Moulins a snug and comfortable base for touring around Brittany. We have been able to do a lot of sightseeing without any crowds. We recommend: the Bayeux tapestry, seafood in Cancale and the Forêt Villcartier for beautiful and manageable country walks. Les Moulins is extremely well-equipped and Alison and Malcolm have been kind and helpful.
Thank you for allowing us to share your corner of France for a week. We wished it could have been for longer!!! We hope to return again next year!! Fantastic house, everything thought of – down to the finest detail. Very comfortable and amazing – always surprises on opening a drawer or cupboard door! We loved the Games room, the pool, the gardens and the surrounding villages and attractions. Thank you!
This is our 3rd year travelling to France with wee ones in tow and by a long shot, Les Moulins has been the best gite ever!! As soon as we set eyes on the place we could see how clean and welcoming it was. The gite was spotlessly clean, the beds comfortable and the whole place well equipped. The pool was Hayden's highlight of each day and the garden was beautiful to relax in. Best places we have visited – the aquarium at St Malo, Bourbonsais Zoo, Alligator Bay, Forest at Ville Cartier.